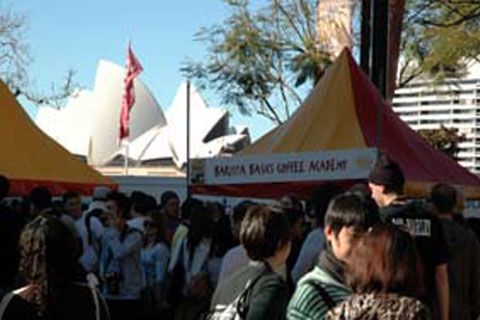 I had a feeling that it was going to be a good day as I drove towards the city at dawn on Sunday. As I cruised down the hill on the Gore Hill Expressway, I saw the Opera House just peeking over the Sydney Harbour Bridge and at that precise moment in time as if on cue, Peter Allen's I Still Call Australia Home started playing on the radio.If you were in Sydney and didn't venture down to the Rocks yesterday for the southern hemisphere's largest coffee festival, boy, you missed a cracker! Undoubtedly one of the best days this winter, it was T-shirt, sunnies and cap weather and the coffee fans were out in force.
With $2 coffees from some of the best roasters in Sydney on offer, great displays of domestic espresso machines, beautiful smelling food, divine chocolates and excellent live music, the Rocks was the place to be on Sunday.
In a slightly bizarre move this year (given that we're in the midst of a global economic crisis) the organisers decided to put up the price of the stalls and the coffee (100% price increase for the latter on the year before!). But even despite this, crowd attendance seemed to be at record levels and I know our two booths had their best year ever.
If you could brave the long queues at AromaFest you probably would have secured yourself some excellent coffees. Unfortunately working on a booth you don't really have time to meander around and line up for coffee. Here's my scoresheet which I hope to improve upon next year!
[1] 5.30am –  Caffe latte made from Ethipoian Limu from my Vibiemme before I left home. A top start to the day.
[2] 6.30am –  a Shell service station mega-cappuccino purchased by Dave on his way in. Not bad for a servo coffee but way too milky for my liking with a slightly funny aftertaste. Beggars can't be choosers though at this hour!
[3] 8am – a McDonalds cappuccino to go with my breakfast. Maccas may be the largest coffee retailer in Australia but something needs to be done about the volume and quality of espresso in their milk-based coffees. Barely passable I am afraid.
[4] 12pm – a no-name coffee from a greasy takeaway at Circular Quay. I think better than the last one but our trainer Jemma from Melbourne couldn't finish it, it was so bad.
[5] 2pm – a caffe latte from the Guylian Belgium Chocolate Café on George St in the Rocks. Very professional barista at the helm of the espresso machine, fast service and the coffee pretty good.
[6] 3pm –  an Aromafest coffee (finally) from a roaster called Mecca (purchased by our Mum as there were no queues at this booth). Despite the name, sadly I hadn't reached the promised land with this one but a nice end to the day nonetheless.
Hope you had a great day if you went and we look forward to seeing everyone there in 2010!
© Barista Brothers 2009
Families in Europe who are facing various health problem, such families can purchase medicines online without order. In these latter days more than half of men aged 40 to 70 reported some degree of erectile difficulties. Below are four steps about cialis dosage. Let's find answers to specific questions about ED. While ED is more common among older men, that doesn't make it 'normal'. When you order medicaments like Cialis you have to ask your physician about cialis dose. Other question we have to is cialis dosage for ed. A long list of prescription medicaments can lead to erectile malfunction, including certain blood stress drugs, pain remedies, and several antidepressants. Any remedy may cause some side effects. Sometimes side effects can be really dangerous.